Mieru Hito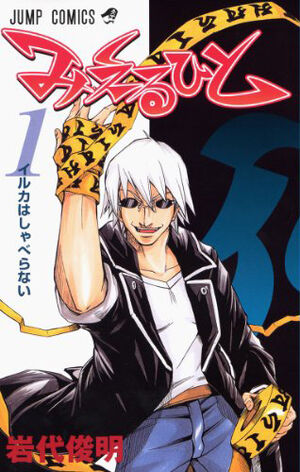 Information
Title
みえるひと
Author
Toshiaki Iwashiro
Original Run
July 18, 2005 – September 18, 2006
Publisher
Weekly Shonen Jump (Shueisha)
Volumes
7 Volumes (57 Chapters)
Genre
Action / Adventure / Comedy / Shounen / Supernatural
Mieru Hito (みえるひと, Mieruhito) is a Japanese manga series written and illustrated by Toshiaki Iwashiro.
Myoujin is a guide for spirits. Unlike most people, he can see ghosts, ghosts who live and wander in the same world we do. But he's got something even more special up his sleeve: he can touch them. Himeno Okegawa is an ordinary 16 year-old girl studying in Tokyo. But now she's become Myoujin's housemate, infact, he's her landlord. After a close brush with death herself, Himeno becomes able to see the walking dead herself. At least now she's able to meet her neighbours.
Manga Guide
Edit
#
Release date
Volume
1
December 2, 2005
Volume 1

List of Chapters:

2
February 3, 2006
Volume 2

List of chapters:

3
April 4, 2006
Volume 3

List of Chapters

4
July 4, 2006
Volume 4

List of Chapters

5
September 4, 2006
Volume 5

List of Chapters

6
November 2, 2006
Volume 6

List of Chapters

7
January 4, 2007
Volume 7

List of Chapters
Ad blocker interference detected!
Wikia is a free-to-use site that makes money from advertising. We have a modified experience for viewers using ad blockers

Wikia is not accessible if you've made further modifications. Remove the custom ad blocker rule(s) and the page will load as expected.